News Release
2022.08.06 Update
Mobile paint app "ibisPaint" for Windows released!
ibisPaint Windows version released!

Ibis inc. announces the release of the Windows version of its popular mobile paint application "ibisPaint" for smartphones/tablets.
Ibis Paint is a drawing social networking application for smartphones/tablets that features a drawing process sharing function.
In December 2021, Ibis Paint achieved a total of 200 million downloads in the series, and was the most downloaded application from a Japanese company worldwide in 2021 (App Store + Google Play Store total, according to data.ai).
In addition to the smartphone/tablet version, we are pleased to announce the launch of the Windows version of Ibis Paint, which has been requested by many users.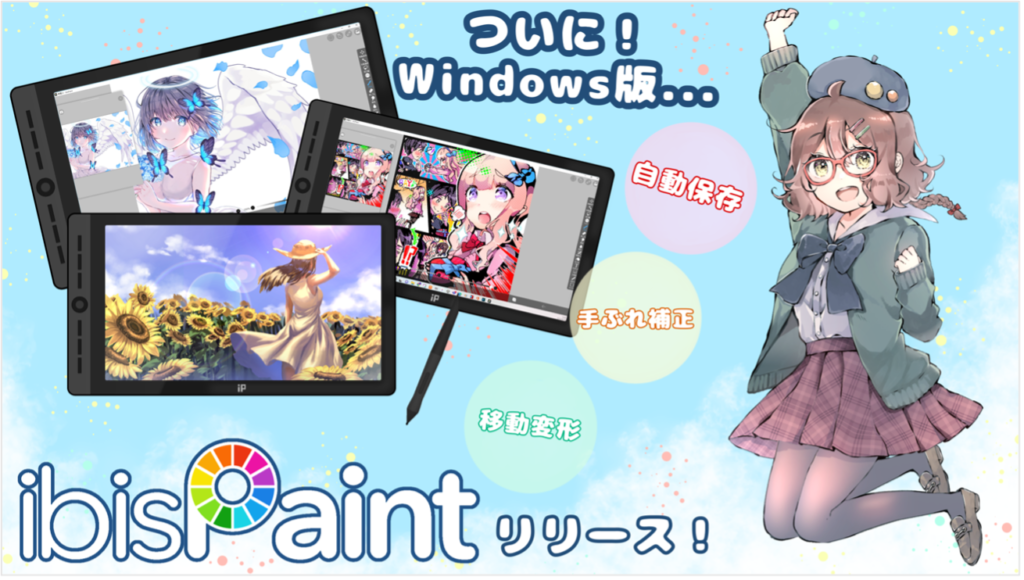 Product Information
Free Mode
1Free 1 hour usage limit per day.
Pro add-on
2,350 yen (tax included)
In addition to lifting the 1-hour daily usage limit, "Pro features" such as tone curve filter, gradient map filter, level correction filter, color replacement filter, cloud pattern filter, and reordering of works in My Gallery are available.
Premium Membership" for the Windows version is currently under development.
Features of the Windows version
The smartphone/tablet version of Ibis Paint has been used by an extremely large number of users, having reached a cumulative total of 200 million downloads in December 2021, and surpassing 250 million downloads in June 2022, only six months later.
The release of the Windows version of Ibis Paint will not only give more people the opportunity to experience Ibis Paint, but will also provide an even more convenient drawing environment for users who are already using the smartphone/tablet versions of Ibis Paint.
We believe that this will also provide an even more convenient drawing environment for existing users.
In order for existing users to feel comfortable using Ibis Paint, the easy-to-understand and easy-to-use UI (user interface), one of the features of Ibis Paint, has been retained.
The development of the Windows version was conducted with consideration to ensure that almost all of the rich functions implemented in the smartphone/tablet version can be used in the same way.
In addition, files created with the smartphone/tablet version of Ibis Paint can also be viewed and edited with the Windows version.
This makes it easy to, for example, create a draft of an illustration on a smartphone/tablet, then move the file to a Windows PC and continue working on it on a larger display.
In addition, it is convenient to use the cloud synchronization function of Ibis Paint to share your work files between the smartphone/tablet version and the Windows version.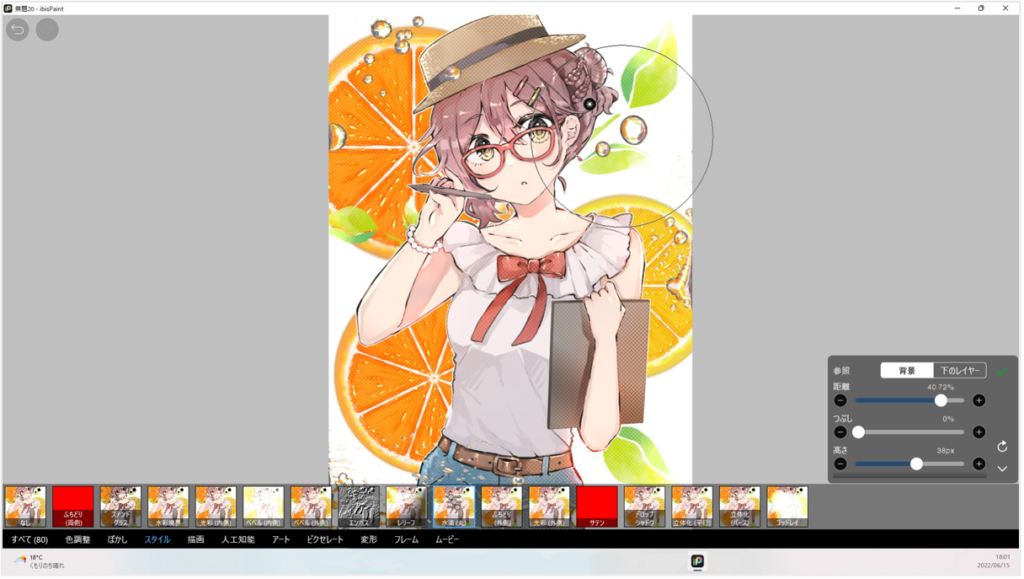 Compatible with pressure-sensitive LCD tablets and pen tablets
Ibis Paint is compatible with Windows Ink-enabled LCD tablets and pen tablets.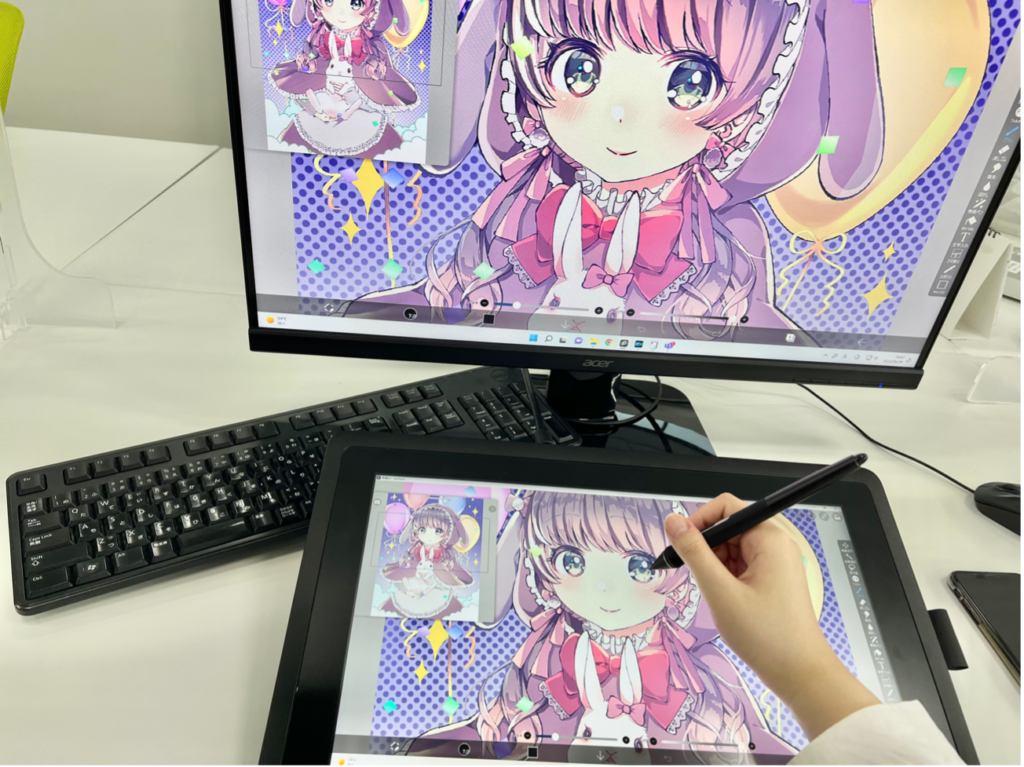 Drawing community "ibispaint.com"
Users can post their ibispaint creations to ibispaint.com (online gallery), a dedicated community site.
On ibispaint.com, you can post comments, "Like! and other social networking functions, as well as collaborative activities in which multiple users share the role of line drawing, coloring, and other areas of expertise.
In addition, ibispaint.com is also actively used by users to share and learn drawing techniques, as it is characterized by the ability to view not only still images of posted works, but also videos that record the drawing process.
In addition, brushes, stamps, and other materials posted on ibispaint.com can be used in Ibis Paint.

Learn to draw on official social networking accounts
Ibispaint operates official accounts on various SNS such as YouTube, TikTok, Twitter, Facebook, and Instagram.
Please take a look at these accounts to learn more about Ibis Paint, such as illustration techniques, explanations of filters that make illustrations look better, material contests, collaboration projects, and more.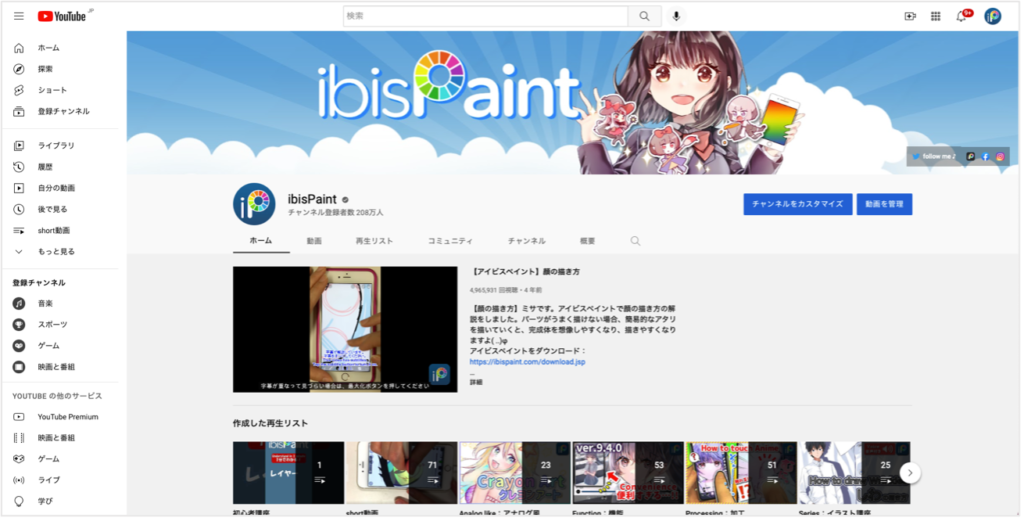 Product Overview
Development Company
Ibis inc.
App Name
Free version: ibisPaint X (ibisPaint X) *Only for iOS and Android
Paid version: ibisPaint
Category
Windows: Multimedia Design
iOS:Graphics/Design
Android: Art & Design
Supported OS
Windows: 64-bit Windows 10 version 2004 (19041.0) or later or Windows 11
iOS: iOS devices with iOS 12 or later and iPad with iPad OS 13.1 or later
Android: Android 4.4 or later smartphones and tablets
Price
Windows
Free: 1 hour per day
Pro add-on (buy it now): 2,350 yen (tax included)
Premium membership: under development
Smartphone/Tablet
Free version: Free
Paid version: 1,220 yen (tax included)
In-app purchase
Ad-removal add-on (buy-one-get-one-free): 1,220 yen (tax included)
Premium membership (monthly plan): 300 yen (tax included)
Premium membership (annual plan): 3,000 yen (tax included)
1 month free for the first month! 1 month for iOS, 30 days for Android
Ibispaint.com
Number of submitted works: 3,504,134
Number of works downloaded: 65,773,69
Likes! Number of likes: 95,009,53
Comments: 52,720,62
URL: https://ibispaint.com
App Download
ibisPaint X [iOS: free version]
https://itunes.apple.com/jp/app/id450722833?mt=8
ibisPaint X [Android: free version]
https://play.google.com/store/apps/details?id=jp.ne.ibis.ibispaintx.app
ibisPaint [iOS: Paid version]
https://itunes.apple.com/jp/app/id441179131?mt=8
ibisPaint [Android: Paid version]
https://play.google.com/store/apps/details?id=jp.ne.ibis.ibispaint.app
ibisPaint [Windows: paid (1 hour free per day)
https://www.microsoft.com/store/apps/9PFDF2ZD4Z4N
YouTube channel
https://youtube.com/ibisPaint